Hendrix Katter's Web Page
Domestic Short Hair (short coat) : : Male : : Young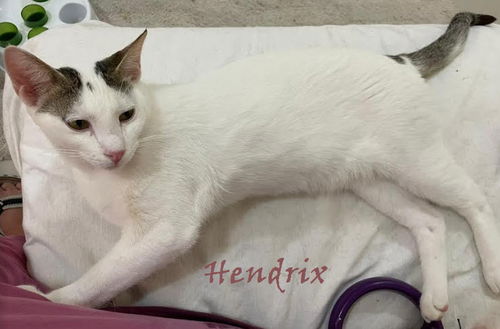 I would love you more than you can imagine.
Please adopt me!
Apply for cats at www.carmah.org
All cats are first come first serve; sorry, we cannot reserve cats.
About Hendrix Katter

Status: Available for Adoption (adoption info)
Species: Cat
General Color: Black and White
Current Age: 1 Year 4 Months (best estimate)
I'm Hendrix. I am almost all white and have tiger ears and tail. I am a fun and sweet boy. I love to play and I will rub against you when I'm ready for affection. I love other cats and I will likely be snuggly with humans once I settle in at your place. I like Oreo, but we are not bonded, so we can be adopted separately.
I am 1.5 years old and healthy! You won't see a purple haze around me, but we could make beautiful music together.
Kittens under six months must have a cat buddy.
Adoption fees are $325 for kittens under a year, $600 per pair
$250 for cats 1-11 years, $175 for cats 12+ years

CaRMaH is an all volunteer, no-kill cat rescue group serving the Marlborough/Hudson MA area and beyond.